Reviewing The Top Stories in Pop Culture  from Nov. 13 to Nov.19 in The Last Week in Review of Nov 19, 2016.
Entertainment News:
Fullmetal Alchemist Live-Action Movie Trailer Released
The first trailer for the live-action Fullmetal Alchemist film has hit the Internet. Fullmetal Alchemist is an anime series adapted from the manga of the same name.
First Trailer of Justice League Dark
Demons Invade the DC Animated Universe as the JL calls in heroes with supernatural expertise. Justice League Dark releases on DVD, Blu-ray, and digitally in early 2017.
Forest Whitaker to Join Tupac-Biggie Murder Film Labyrinth
Forest Whitaker will co-star with Johnny Depp in the crime thriller Labyrinth. The film revolves around disgraced LAPD detective Russell Poole (Depp) as he tries to solve his biggest case the unsolved murders of rapper Tupac Shakur and the Notorious B.I.G.
Robert Downey Jr. Set To Make Directorial Debut With Singularity
Downey is set to make his debut on Singularity, a TV pilot featuring his Weird Science co-star Anthony Michael Hall.
Warner Bros. Acquires Full Control of Machinima
Warner Bros. announced that it signed an agreement to acquire full control of Machinima, the digital programming company focused on fandom and gamer culture.
NBC Renews The Night Shift for Season 4
NBC has renewed "The Night Shift" for Season 4, Variety has learned. The medical drama aired its third season this summer, and will return with its fourth season in 2017.
Wedding Crashers 2 In The Works
In a recent interview, Wedding Crashers co-star Isla Fisher (who had her breakout role in the comedy) said that Wedding Crashers 2 is currently in the works.
Emilia Clarke is joining the "Star Wars" Han Solo spinoff.
Clarke will star opposite Alden Ehrenreich and Donald Glover, who plays Solo and fellow smuggler Lando Calrissian, respectively.
Movie Releases:
Bleed for This staring Miles Teller
Fantastic Beasts and Where to Find Them, A spin-off of the Harry Potter film series and based on the J.K. Rowling's book of the same name
The Edge of Seventeen starring Hailee Steinfeld & Woody Harrelson
Music News:
Prince's Estate Sues Jay Z's Roc Nation
On Tuesday, Prince's label NPG Records filed a federal lawsuit in Minnesota against Jay Z's Roc Nation. The label  alleges that Tidal is committing copyright infringement by continuing to stream the artist's back catalog.
NPG maintains that Prince only gave Tidal permission to stream songs from one of his albums, "Hit n Run Phase One," for 90 days after an agreement between the two companies was reached on Aug. 1, 2015. Conversely, Roc Nation and Tidal assert that the agreement gave them the right to "exclusively stream [Prince's] entire catalog of music, with limited exceptions."
2016 Latin Grammys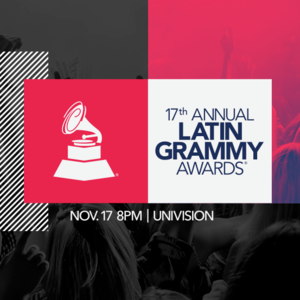 The 17th Annual Latin Grammy Awards were be held on November 17, 2016 at the T-Mobile Arena in Paradise, Nevada while broadcast on Univision. On Wednesday night (Nov. 16), the Latin Grammys Academy of 2016 crowned Marc Anthony Person of the Year at the MGM Grand Arena in Las Vegas.
Kanye West Booed for Saying "I Would Have Voted for Donald Trump"
Kanye West was booed during a show in San Jose, California on Thursday night for saying that, although he didn't vote in the 2016 presidential election, he would have voted for Donald Trump.
Music Releases-
The Weeknd – "I Feel It Coming" featuring Daft Punk and "Party Monster"
Pharrell's 'Crave' – written for the Hidden Figures soundtrack.
John Mayer – "Love on the Weekend"
Jhene Aiko – "Maniac"
Macklemore – "Wednesday Morning"
Usher – "Wait for It"
Lupe Fiasco – "Made In the U.S.A."
Rick Ross featuring 2 Chainz and Gucci Mane – "Buy Back the Block"
Fetty Wap- "Shit I Like" / "Shorty" / "Blue Band Weirdo"
Childish Gambino – "Redbone"
Bruno Mars- 24K Magic (Album)
Miranda Lambert – The Weight of These Wings (Album)
Metalica – Hardwired…To Self-Destruct
Trending News:
New Balance is under (and on) fire – literally for Trump Support
Some have taken to social media to show their disdain for the brand's endorsement of President Elect Donald Trump by defacing their New Balance sneakers on social media, or tossing them in the trash. Following the election last week, the athletic footwear and apparel brand became one of the first international companies to congratulate President-elect Donald Trump. Days later, the white supremacist site The Daily Stormer, published an article calling New Balance the "official shoes of white people"
Trump supporters launch #TrumpCup as a protest against Starbucks
Donald Trump supporters have started asking for their Starbucks drinks under Trump's name as a movement against the coffee giant. #TrumpCup is a movement against Starbucks due to their alleged discrimination.
Super Mario Run hits iOS on December 15
The highly anticipated iPhone and iPad game will offer limited, free content. It will cost you $10 to unlock the full experience.
Nintendo calls it he "first-ever mobile game featuring the most iconic video game hero of all time."